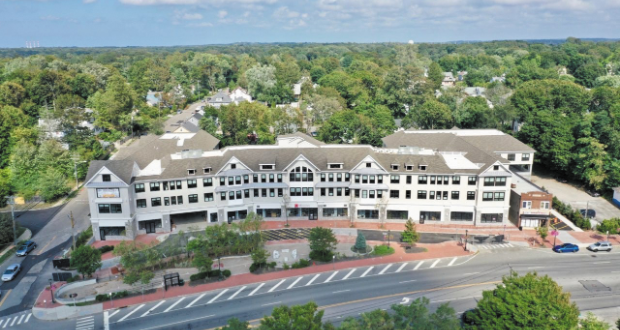 Developer advances mixed-use projects in two downtowns
By: David Winzelberg August 17, 2020
After completing the first new transit-oriented project in Hicksville's downtown revitalization, a Huntington-based development firm is putting its stamp on revitalization efforts in two other Long Island downtowns.
G2D Development will soon open its Gateway Plaza mixed-use building in Huntington Station, the second and largest-so-far project in the area's long-anticipated reboot.
The $25 million redevelopment at 1000 New York Ave. has 64 rental apartments above about 14,000 square feet of commercial space and its first move-ins are expected by Sept. 1.
Gateway Plaza, which will be one of the only apartment buildings in Suffolk County with a doorman, has a mix of eight studios and 56 one-bedroom units, with monthly rents that range from $1,800 to $3,200. Several of the apartments have already been pre-leased.
"We've seen a lot of demand from people living in the city and looking to move east," said Greg DeRosa, a G2D principal. "You're starting to see some changes in how people live and work. Not sure if it's just COVID and whether it will continue. We think it could be at least a two- to three-year trend."
The commercial space at Gateway Plaza is already spoken for. GEI Consultants, which specializes in environmental engineering and technical services, will occupy 10,000 square feet of office space on the ground-floor of the development. WorkSmart, G2D's shared-office concept, will occupy 2,500 square feet and the remaining 1,900 square feet will have a new cafe in conjunction with the Elija Foundation, which will serve to help integrate adults with autism into the community.
Gateway Plaza follows a mixed-use project from Blue & Gold Homes just up the street that brought 16 rental apartments over 6,500 square feet of retail space, which was the first development in the Huntington Station revitalization effort.
Ryan Porter, partner of Renaissance Downtowns, which has been piloting the area's revitalization, said the first building has had "great success" in attracting millennials and young professionals.
"We think that will continue with the opening of Gateway," Porter said. "It is also bringing new office space to the area and the potential for job creation."
DeRosa says his company has seen an uptick in interest in its WorkSmart shared-office concept as more businesses decentralize their office locations. The first WorkSmart, located in a 6,000-square-foot space on the ground floor of G2D's Hicksville building, opened in February.
G2D is hoping to start construction this year on a $15 million mixed-use project in Riverhead, another downtown in the midst of a decade-long revitalization effort. Dubbed The Shipyard, the development, which just received preliminary site plan approval from the Town of Riverhead, will bring 36 rental apartments over 880 square feet of retail space at 331 East Main St.
Located in a federally designated opportunity zone, the complex will have a mix of 10 one-bedroom and 26 two-bedroom apartments with monthly rents ranging from $2,200 to $2,700. The Shipyard will feature on-site parking and a rooftop deck.
As part of the project, G2D will be preserving a historic property known as the 1855 Norton House and moving it to another location in the town. DeRosa credited town officials for their collaboration on The Shipyard project. "We've all worked well together to further the town's goals for downtown revitalization while maintaining the economic viability of the project," he said.
Riverhead Councilwoman Jodi Giglio called the development "another great project" for downtown Riverhead.
"With the market-rate apartments, the commercial space on the ground floor and the rooftop views, it's a true compliment to the area," Giglio said. "We are appreciative of all the investment interest that's been going into downtown Riverhead over the last decade." G2D is also planning a second mixed-use project in Riverhead that will have about 40 apartments over another WorkSmart shared-office location. "These projects are another step towards Riverhead's long journey to downtown revitalization," said DeRosa, "and they fit in with the town's one-project-at-a-time approach to reinventing its downtown area."